Page 1 Transcriptions
HEY , LOOK OVER THERE ! SOME RANK A AFRO HEAVYWEIGHTS THE ARE HERE TO FOREVER . SEE THE MATCH . COME ON , DON'T ASSUME I'M ALREADY ON YOUR TEAM . AND HEY YOUR NAME IS SERIOUSLY AFRO " ? STAGE 69 : USING APPS C GLORIA CHIEF , FROM NIGERIA . MACBE SUSTAIN , FROM THE ASTEROID BELT . HE'S A MASTER OF A MARTIAL ART CALLED DAMBE . THE BELT IS LIKE THE OLD AMERICAN FRONTIER . HE'S PROBABLY GOT TONS OF FIGHTING EXPERIENCE .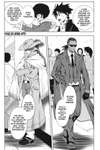 Page 2 Transcriptions
MORBOR GRAN , FROM INVERSE MARS . NO ONE KNOWS ANYTHING ABOUT HIM AND HE'S YET TO FACE A CHALLENGER WHO'S MADE HIM PULL OUT THE STOPS . UH , AFRO . THAT'S A MASK , RIGHT ? THAT'S NOT HIS REAL FACE ... RIGHT ? DON'T LET THEIR CUTE FACES FOOL YOU . THEY'RE TOUGH THEY'VE COME OUT ON TOP OF A BUNCH OF TOURNAMENTS BACK WHERE THEY'RE FROM THE KAREN E SACRE DUO FROM INVERSE MARS . OGRE SAN AND MEREDITH FROM INVERSE MARS . L YO , KID , ARE YOU DISSING OGRE - SAN ? BELIEVE IT OR NOT , HE'S A MAN OF CHARACTER , AND GOOD WITH KIDS . HE'S THE MOST POPULAR GUY HERE . WAIT A SECOND AFRO . THAT GUY'S TOTALLY A HE'S MONSTER HUGE LIKE A KAIJĀ !