Page 1 Transcriptions
Funka CHIR RUP . RUP ACE HIKKKIA ffff 54 = // CHI *** = A FFF .. 000 YOU'RE AWAKE . OH . ‒‒‒‒‒‒ ‒‒‒ HUMME | U JQ WHERE ... ? HOLDER ! MM ... Av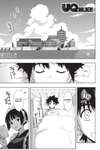 Page 2 Transcriptions
MRK . YOU'VE BEEN ASLEEP FOR A VERY LONG TIME . I APPRECIATE EVERYONE . YOU , TOO . HMPH WE BROUGHT YOU BACK TO UQ HOLDER'S HIDEOUT , SENKYÖKAN . I HOPE YOU APPRECIATE IT . I ALWAYS APPRECI ATE IT . CHIKKXXED - /// BUNN SINCE KURŌMARU WAS THE DIVINE BLADE , THERE ARE ANY NUMBER OF WAYS TO DEAL WITH ITS EFFECTS . ALTHOUGH IT DID SEEM TO REQUIRE SOME KIND OF RITUAL . SO I FIGURED IT WAS ABOUT TIME SOMEONE MADE THEM TAKE A BREAK . FUSHI BARAI CAN BE HEALED BY BREAKING THE SWORD THAT INFLICTED IT , REMEMBER ? SLASH THEY STAYED BY YOU CONSTANTLY FOR TWO WHOLE DAYS AND NIGHTS . KARIN SEM PAI ... YOU OWE A LOT TO KIRIE AND KURŌMARU . HUH ? KURŌMARU CUT ME WITH A FUSHI - BARAI ... BUT THERE'S NOT EVEN A SCAR . I SEE ...
Page 3 Transcriptions
COUVE TOTA KUN !! WHAT ... ? IT SEEMS THAT HELP HAS ALREADY ARRIVED ... YOUR COMRADES ARE HERE . 3 Hills NII SAMA ! COSTI THERE WILL BE NO NEED FOR THAT , KURŌMARU . M YOU DON'T RE MEM BER ? WELL GETTING STABBED IN THE HEART WITH FUSHI BA ... RAI ... NO , I HAVE TO GET HELP ... SO , UH ... HOW ... DID EVERY THING GO ? THAID HEH HEH . IT REALLY ISN'T EASY ... I - I HAVE TO HELP YOU !