Page 1 Transcriptions
Charta Ministralis XVIH Charta Miralis OOHH ! Charta Ministralis Charta Ministralis XET Imam WER AMA Charta Ministralis Charta Ministralis 177 SITIS ADAM H dat eur kien X Charts Ministralis DEA WPRINCIPIS SiSOLITAR eles centrio Veure HPX AVIATOR TEMPORIS CARIN SANGENUS INCIFER toGI SASA CUROMYARU Virtu apientia occidens XI GLADIARIUM NEDEFRALE fides det auster Saturnus virtus temperantia walitas directio Joriens Venus Ulris EX STAGE 157. THE FIRST TARGET IT'S TRUE , YOU HAVE A COLLECTION OF VERY RARE CARDS HERE . IT IS A SIGHT TO BEHOLD . I JUST HOPE IT CAN HELP YOU , SEMPAI . I HEAR EACH ONE OF THOSE CARDS IS WORTH A FORTUNE . CHATTER CHATTER IT IT STILL ... I'M SURE THESE CARDS ARE REALLY GOING TO IMPROVE OUR CHANCES , BUT ... WE'LL HAVE TO SEE WHAT ALL OF THE ARTIFACTS CAN DO , TOO . I DON'T SEE A PROBLEM WITH THAT , DO YOU ? WAIT . DOESN'T THIS MEAN WE ALL ENDED UP NII - SAN'S MINISTER MAGIS ?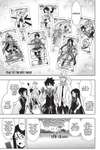 Page 2 Transcriptions
YEAH BUT I'M GOING TO WELL , NEED ALL DON'T OF YOU WORRY TO HELP ABOUT ME OUT IT . I A LITTLE . ACTUALLY HAVE AN IDEA ... WHAT ? REALLY ? THAT'S A GOOD POINT . I KNOW . LET ALONE THE MAGE OF THE BEGINNING . THIS TINY PACK OF CARDS WON'T EVEN GIVE US A CHANCE AGAINST FATE , WE HAVE SEEN THAT THE TERRORIST THREAT HAS ESCALATED IN COUNTRIES AROUND THE WORLD ... AND THAT'S THE WORD FROM THE FIELD ISH I'M WORRIED ABOUT THE WORLD , TOO . WE'RE HEARING A LOT OF IT GRIM NEWS REMINDS LATELY . ME OF THE GENERAL MOOD IN THE ERA PRECEDING THE GREAT WAR . IT'S ABOUT TIME WE SERIOUSLY WENT TO WORK . BUT MAINLY , WE DON'T KNOW HOW LONG GRANDPA AND ASUNA - SAN CAN HOLD OUT . AND WHICH ERA WAS THAT , KARIN CHAN ? SEM PAI ? NII CHAN ?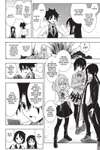 Page 3 Transcriptions
OUR FIRST TARGET ... AU ... IS GONNA BE THAT SELF IMPORTANT JERKFACE . 0 0 H 가 0 옷앞 의 앞국 THREE MONTHS LATER .. ! 앞 을