Page 1 Transcriptions
Grandpa, it's been so late! Why haven't you closed the inn yet? Si Si, you go to bed first! I will close it myself in a bit.

Page 2 Transcriptions
Hey, the roast meat that guests is eating over there doesn't look like one of our dishes. It smells so good.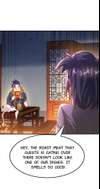 Page 3 Transcriptions
Oh, old Chen, your daughter has finally decided to show herself?