Page 1 Transcriptions
Master, elders! Feng Hao broke through during morning practice. Breaking through at this time? Was there any other phenomenon?

Page 2 Transcriptions
Feng Hao's practice skills in the martial arts training ground are different.

Page 3 Transcriptions
Different? His set of practice techniques can train physical toughness and strength control at the same time.

Page 4 Transcriptions
It should at least be a high-level skill at yellow-grade! Yellow-grade high-level?!

Page 5 Transcriptions
Yellow-grade high-level secret script, there's only one in the Feng family... And it's just a "martial" secret script.

Page 6 Transcriptions
Let me take a look! Did Hao'er get some advice from the experts?

Page 7 Transcriptions
Breathe in Breathe out Hah! Bam

Page 8 Transcriptions
How did Feng Hao suddenly change? Incredible! What skill is he using? This is absolutely a yellow-grade, maybe even a high-level; No way, it must be a coincidence! Whoosh Whoosh

Page 9 Transcriptions
It's true that there is a possibility of it being a yellow-grade secret script. However, I will help Feng Hao when I change the master of the family. Come back with me, don't talk about it in public.

Page 10 Transcriptions
Son, I knew you could do it. I'm so proud of you!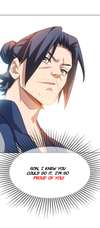 Page 11 Transcriptions
Master, little master, come out! What are you doing? Disturb your master's sleep? Yan~ Ah

Page 12 Transcriptions
Master, although the skills you gave me are very powerful, I was exhausted after a short period of practice. I have to wait until I recover. It's awaste of time. Hey, blame your weak body. the limit that your body can bearis naturally limited. Master is so clever, there must be a way!

Page 13 Transcriptions
Flatterer! Have you heard of pharmacists? Ah? Yeah...

Page 14 Transcriptions
Hmm, our city heard rumorsof some...
Page 15 Transcriptions
In Tian Wu Continent, there are two kinds of professions: "pharmacist" and "poison master", besides martial arts practitioners. To become a pharmacist, first of all, you must have a pharmacopeia. according to the pharmacopeia records, you need to swallow the medicines, and condense the medicines in the body. Pharmacist is The noblest profession in the land of Tian Wu. Its function is to treat illnesses and injuries. No matter how high your cultivation is, you will get injured. If you don't have a pharmacist, you will fall into all kinds of injuries. This can be counted as a pharmacist!

Page 16 Transcriptions
This can be counted as a pharmacist! But poison masters are just opposite. What they practice are poison secret scriptures to create poison pills, and they are the worst people on the mainland that no one can offend! People who offend poison masters often die from terrible poisons. Of course, the amount to produce pills is massive. Only the large families in the big cities can train a pharmacist. Moreover, pharmacopeia is generally regarded as a treasure. It is passed down from generation to generation, and the level of pharmacists is naturally closely related to their pharmacopeia.

Page 17 Transcriptions
Are pharmacopeia and poison masters rare? Why is it so different in your area?

Page 18 Transcriptions
Ok, ok, I won't use it anyway. I'll give you god pharmacopeia scripture. I'll save myself from a lot of noise! whoosh whoosh whoosh whoosh WHOoSH WHOoSH