Page 1 Transcriptions
Sure, it's time I should go look for the delegation of Xilan kingdom as well. Brother Feng, the pavilion of the Kingdom of Falling Moon is nearby, let's part ways here.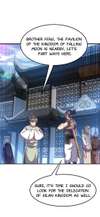 Page 2 Transcriptions
Brother Feng, I hope to see you in the competition! Deal!

Page 3 Transcriptions
The place where the man at the information desk mentioned just now should be this courtyard.