Page 1 Transcriptions
Sigh... Esteemed pharmacist, forgive this lowly one for not recognizing your ability! My friend, you are too harsh on yourself. I still have many matters for which I will seek your assistance. Please stand up.

Page 2 Transcriptions
As expected of a businessman, he has good instinct, I'll have to be careful with my words from now on. Hurry, someone brings me every single ledger of the pharmacy!

Page 3 Transcriptions
Have a look, sir. If anything useful to you, please take it as our deposit for the manuscript!

Page 4 Transcriptions
Swirling sand palm Very well. Haha I'll leave this with you then.

Page 5 Transcriptions
He's just going to give it to me like this?!

Page 6 Transcriptions
Rustle Both the quality and the quantity of these medicinal ingredients are far from enough. The divine pharmacopeia's requirements for medicinal ingredients are just too high. Rustle

Page 7 Transcriptions
Sir, our small pharmacy is indeed limited, but please trust in the abilities of Ya Ge auction house! Please write down the medicinal ingredients you require, and this humble servant will ensure that you are satisfied! This amount is not enough. Very well.

Page 8 Transcriptions
Over 500 types of medicinal ingredients! I thought he might be a Xuan-grade pharmacist at first, but it seems like he's closer to an earth-grade pharmacist! There are only a few in the entire continent! This should do for now, I won't include the rarer ingredients for now.

Page 9 Transcriptions
Even if I have to go bankrupt, I have to get on a good relationship with this man! One moment sir, I'll prepare the ingredients for you right away.

Page 10 Transcriptions
Bam... Bam... Bam... Bam... I've put them all in this spatial ring. Please accept this ring as a greeting gift from Ya Ge auction house! Everything has been prepared, sir.

Page 11 Transcriptions
It's fine. At least I won't be able to eat all of them in one go. Let me know if I've taken too many, and I'll compensate you. Of course not! Please make sure to attend the auction in three days, sir! A spatial ring! This ring must have cost at least ten thousand gold pieces, he's really giving me a lot of ingredients! Many thanks. I am not familiar with the market of medicinal ingredients.

Page 12 Transcriptions
Hah I'll come if I have time. Ha
Page 13 Transcriptions
Huu Now that I'm using the medicinal ingredients to recover my stamina, I don't have to rest at all! I can feel that my abilities are rapidly improving.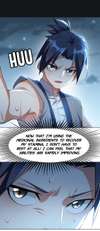 Page 14 Transcriptions
In the last few days, I've been seeing the image of a tiger frequently in my mind. I'll drag you out no matter what today! Ho HO HO

Page 15 Transcriptions
Crackle HO CRACKLE

Page 16 Transcriptions
Roar ROAR

Page 17 Transcriptions
Boom ROAR roar

Page 18 Transcriptions
What... what is this? Hehe~ That's a Xuan-grade technique from the tiger steps scroll,

Page 19 Transcriptions
Azure tiger dash!