Page 1 Transcriptions
Why is Feng Hao only avoiding? Yang Kui is at the 4th level of martial apprentice. Feng Hao is in front of him, but his strikes cannot reach Feng Hao. ha ah Hah Hah HAH hah

Page 2 Transcriptions
How can this be! He's only at the 3rd level of martial apprentice! Whoosh Bam

Page 3 Transcriptions
Young master Yang, you should spend less time practicing with your mouth, and more time practicing your martial skills. This is an eye-opener. It's incredible to see a 3rd-level martial apprentice suppress a 4th-level one. Ha ha... Yang Kui only broke through to the 4th level by using pills and elixirs. This rich young master... Shh, he can hear you.

Page 4 Transcriptions
What are you doing there? Go on! Kill him! Dong DONG

Page 5 Transcriptions

Page 6 Transcriptions
Who is that? Show yourself! Shock Feng... Feng Chen Young master Yang, isn't this a martial arts competition? How can you call a helper? Feng Chen Martial arts Mastermedium level I will take care of them.

Page 7 Transcriptions
I've met uncle Feng. It was just impulsed. I'll take the bloodline test of the four clans in half a month. I'll have a good fight with brother Feng then, I'll take my leave now. Feng Hao, I will pay back twice the shame you gave me today! Glare

Page 8 Transcriptions
Prepare the best pills for me. I will kill him in front of the whole city in half a month! Father, you've been watching from the beginning? Ha ha

Page 9 Transcriptions
Haha, you noticed me. You have made progress. You will surprise everyone in three years.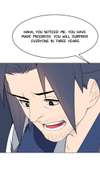 Page 10 Transcriptions
Yes. DONG dong dong DONG

Page 11 Transcriptions

Page 12 Transcriptions
Little master, oh little master? What's wrong? Disturb my sleep in the middle of the night. Wah Bam!

Page 13 Transcriptions
Master, I have prepared all the ingredients needed for the martial pill. How do you refine it? Through what process? Why is it so complicated to make a pill? You are an idiot! You have the pharmacopeia in your body, just eat it.

Page 14 Transcriptions
Directly eat? Eat it raw? whoosh

Page 15 Transcriptions
Ding Sigh... Oh! It tastes terrible! What's next? I will look in the pharmacopeia. Ding SWOoP SWOOP
Page 16 Transcriptions

Page 17 Transcriptions
DING DING

Page 18 Transcriptions
This!? Whoosh whoosh

Page 19 Transcriptions
Dong SWOOSH SWOOSH DONG
Page 20 Transcriptions
SWOOSH It's so great! I feel full of energy! It seems like my strength has improved too!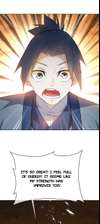 Page 21 Transcriptions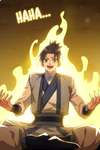 Page 22 Transcriptions