Page 1 Transcriptions
The prestige of Hao brothers and the Feng family are now representative of the Xilan kingdom. I'm pretty sure that they've already surpassed the Hua family. Why are you still so strict with them? Well! You see... I have offended the Wu family. Although they won't retaliate in the near future, they will never let this go. Compared to the great powers of the imperial dynasty, the foundation of the Feng family is still very weak.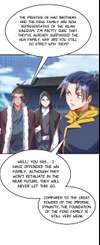 Page 2 Transcriptions
Huh? Where's Cheng Nan? Haha, where else would he go? He must've gone to pester that cold-tempered beauty!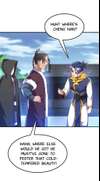 Page 3 Transcriptions
You guys can stay in my Feng manor for now. I'm going to Feng Yue academy and will be back very soon.