Page 1 Transcriptions
Kid, Yun Ying is already at the first level of martial spirit, and she will soon break through the middle level! So she will be a martial spirit!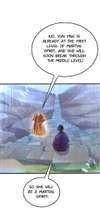 Page 2 Transcriptions
Strange, so strange! What's wrong, master? Her cultivation is only at the low level of martial spirit, but her physique is already at the high level of martial spirit, I don't know how she did it. It seems that I should do the same.

Page 3 Transcriptions
Wait, kid, with your current cultivation, you don't stand a chance against her! But my Qi is limited, and I can't find any yi jing or wu jing to refine and improve it, is it completely hopeless?