Page 1 Transcriptions
Master Hao, I've heard about the incident in the Ancient Ruins, it was purely a misunderstanding, I would like to apologize to you! Oh, since you want to make amends, shouldn't you be a little sincerer?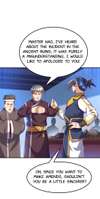 Page 3 Transcriptions
Hehe, it's just a small matter, Master Chi doesn't need to be worried about it.