Page 1 Transcriptions
According to your rules, if Mr. Hao can open one more piece of Martial Crystal, I will personally offer ten more pieces of Martial Crystals.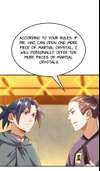 Page 2 Transcriptions
But if you fail, kneel on the ground and call me grandpa three times, then get the hell out of Ju An City!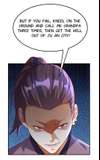 Page 3 Transcriptions
Shut up, Mr. Hao Fen is my guest, disrespecting Hao Fen is disrespecting Yu Xiao! Lord Yu, I'll bet with him! !?