Page 1 Transcriptions
Prince's mansion Elder Hua! Elder Yun!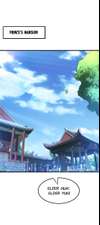 Page 2 Transcriptions
You left your two beautiful girls at home to come over to see us? Actually, I came to ask elder Hua where the deserted ancient ruins are.
Page 3 Transcriptions
Ancient Ruins!? There is indeed a place within the Jin Dynasty where the ancient ruins lie, but it is very chaotic and messy. I went there with the old man at the time and almost lost my life there. Yes, it's too dangerous there. It's best not to go there.