Page 1 Transcriptions
Feng Yue academy's inner courtyard Hey, have you heard that a freshman named Feng Hao defeated Xuan Meng with a single move today? Of course I've heard about it, the freshmen nowadays are getting more and more amazing. Brother Hao!?

Page 2 Transcriptions
Yeah, I don't know how he did it, but Xuan Meng is a grand martial artist. Wait a minute!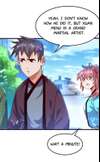 Page 3 Transcriptions
That freshman you were talking about, where is he now?? Wan... Wan Xin!?