Page 2 Transcriptions
Master Kuang, don't worry! If that pharmacist student is really in the academy, I will personally bring him to you! If dean Hua is willing to let him join my pharmacist guild, Kuang Yi will owe you a favor!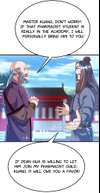 Page 3 Transcriptions
A favor? Not to mention just one favor, if this succeeds, I'll owe you three more favors! Goodbye!