Page 1 Transcriptions
My identity as a pharmacist being exposed to the public has allowed Feng family to get a firm foothold in Yu Lan city. The family is finally stable, But...

Page 2 Transcriptions
Surprised Sit up The money needed to buy medicinal plants to condense pills is going to make me go bald! Little master, help me!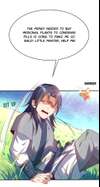 Page 3 Transcriptions
Surprised x2 No-thing can help you. Wha... What?! With your current capabilities, you're at least a high grade xuan pharmacist. How can you run out of money? You're simply the embarrassment of the pharmacist world!! No-thing can help you. No-thing can help you. No-thing can help you.

Page 4 Transcriptions
Do you think secret techniques are white cabbages? I'll tell you now, there's none left. Hmph! If you aren't going to give it then don't. You don't need to spout random reasons, petty master!