Page 1 Transcriptions
The Xilan kingdom is really lucky to have a young, talented person like you, brother Feng! It's a blessing for your Kingdom to have a genius like you as well, brother Cheng Nan!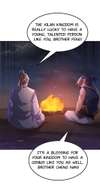 Page 2 Transcriptions
I'm telling you, I'm seriously aiming for first place in The competition of the Kingdoms!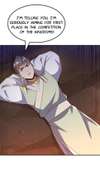 Page 3 Transcriptions
But after meeting you, I feel that you will be one of my potential rivals when competing for the first place! That's weird! Why don't I feel the same way? Haha! However, brother Cheng Nan... The Jin Dynasty is large and there are numerous gifted and talented people. We should pay attention to other people too.

Page 4 Transcriptions
Right, right, there should be at least a few people we must pay attention to!