Page 1 Transcriptions
Brother Feng Hao, is it really you? Do you come to save Ling'er? Yes, brother Hao has come to take Ling'er back.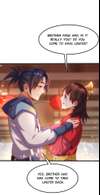 Page 2 Transcriptions
Brother Hao, you must go now. It's dangerous here! Don't worry Ling'er. With brother Hao here, no one can hurt you!

Page 3 Transcriptions
Lord Xue, may I take my sister back then? Yes, of course! Miss, you are free to leave. Tomorrow, I, Xue Yu, will come to your house to apologize in person!