Page 1 Transcriptions
Thank you, president. After two years, you must rush straight to the imperial capital. I'll save one of the ten spots for you!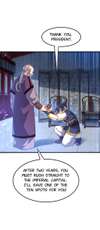 Page 2 Transcriptions
Master, I see that on the scroll map given to me by the president, there is a Thousand Miles Flaming Mountain where fire attribute xeno crystals are highly likely to exist. But why did you insist I go to the Magical Beast Mountain first? Idiot, you don't have enough heat in you, go get some work, that stuff will save your life!