Page 1 Transcriptions
WE'LL GO VIA THE SEW ERS ... TO THE CHECK POINT WHERE THAT WOMAN IS ! Ch . 105 Day Five : Where the Blame Lies सालमा IN THE SEWER SYS TEM ... IN THE CHECK POINTS THAT ARE STILL STAND ING CAN WE BROAD el 1 CAST HER BULL SHIT ... I WANT TO HEAR ... I DON'T CARE IF IT'S CHOPPY AND OVER THE SPEAKERS WE SET UP ... TO CAUSE CONFUSION ?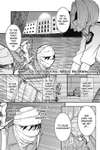 Page 2 Transcriptions
BEFORE I CUT HER DOWN.o WHAT THIS Моск . . HEROINE HAS TO SAY ... IT'S ALMOST TIME . THERE'S NO POINT IN MAINTAINING THEM ANY MORE . THIS IS AN ANNOUNCE MENT FOR ALL SEWER CHECK POINTS . GET BACK ABOVE GROUND . DSCHUBBA'S GOING TO SALUTE YOUR DEATHS . YOU MAY ABANDON YOUR POSTS . SO OUR COMRADES RUNNING THROUGH THE SEW ERS CANO HEAR US AS CLEARLY AS POSSIBLE ... SWITCH OUTPUT TO THE SPEAKERS ...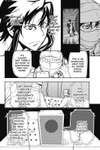 Page 3 Transcriptions
AND NOTA JUST OUR COMRADES EI EVERYONE IN THE EMPIRE ... NMEVERYONE CLETA THEM ALL HEAR ... IN THE NEBULO NATIONS ... THE BLUBBERING ...