Page 1 Transcriptions
THE SPIRIT QUEEN THE SPIRIT QUEEN CREATOR : TUTU PRODUCED BY : KUAIKAN COMICS TRANSLATED BY : LAN - BRIDGE GROUP
Page 2 Transcriptions
THE EMPRESS DOWAGER'S RESIDENCE IS SURROUNDED BY TRAPS FULL OF THE BLACK VIPER POISON .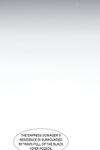 Page 3 Transcriptions
YOU'LL ONLY GET YOURSELF KILLED IF YOU GO THERE . SHE WILL BELIEVE THAT YOU ARE DEAD IN THIS FIRE . YOU CAN GET BACK TO THE PHANTOM CLAN BY HIDING AMONG THE DEAD .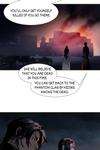 Page 4 Transcriptions
MY MAN WILL HELP YOU WITH THAT . BUT MY FAMILY HAS BEEN EXILED . OUR ARMY WON'T LISTEN TO ME . I'M AFRAID ...