Page 1 Transcriptions
I HAVE TWO RAG DOLLS . WN THE RED ONE HAS BIG EYES . THE GREEN ONE HAS LONG EARS .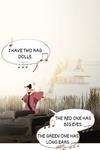 Page 2 Transcriptions
KEEP THE BIG EYES OF THE RED DOLL , & KEEP THE LONG EARS OF THE GREEN DOLL .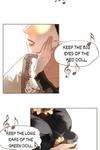 Page 3 Transcriptions
AND I'LL GIVE Welt BOO - BOO ... WHAT SHOULD I DO ... ?
Page 4 Transcriptions
MY VILLAGE HAS SUFFERED THE SEVEREST DAMAGE IN THE DROUGHT . BUT THE EMPRESS DOWAGER HOLDS BACK THE PROVISIONS AND REFUSES TO HELP THE PEOPLE ! SHE'S KILLING MY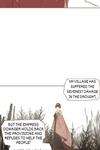 Page 5 Transcriptions
SHE'S KILLING MY FAMILY ! HOW DARE YOU !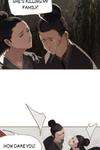 Page 6 Transcriptions
SPEAKING ILL OF THE EMPRESS DOWAGER IS A CAPITAL CRIME ! w