Page 1 Transcriptions
THE SECOND LARGEST SHAREHOLDER ? WHAT THE HELL ARE YOU DOING ? MEILI ! DID YOU SELL THE SHARES BECAUSE OF THIS FAKE ESOTERICA ? DIRECTOR LIN ! CALM DOWN ! 10 SZAP ! WHAT DID HE DO TO TRICK YOU ?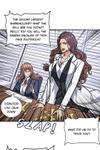 Page 2 Transcriptions
I KNOW HE'S YOUNG , HANDSOME , AND ENERGETIC . BUT DON'T TAKE IT SERIOUSLY ! WHY DID YOU SELL THE SHARES ? WHAT ARE YOU DOING ? IF YOU WANNA DATE MEN , YOU CAN TALK TO ME ! I CAN SET YOU UP WITH SOME WONDERFUL MEN !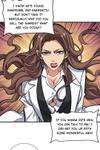 Page 3 Transcriptions
THAT'S NONSENSE , YUXIU ... BUT DON'T GO TOO FAR ! WHY HAVEN'T YOU DEVELOPED THE NEW PRODUCT ? DO YOU KNOW HOW MUCH OUR MARKET SHARE HAS SHRUNK ? IT'S NONE OF YOUR BUSINESS . I LET YOU HAVE YOUR WAY BECAUSE YOUR FATHER HAS MADE A GREAT CONTRIBUTION TO THE COMPANY !
Page 4 Transcriptions
WELL ! I'VE DEVELOPED IT FOR SO LONG ! BUT YOU DIDN'T LET IT HIT THE MARKET ! DIRECTOR LIN ! PLEASE CALM DOWN ! IT FAILED TO LIVE UP TO THE EXPECTATION AND THE ROLLOUT WOULD DAMAGE OUR REPUTATION !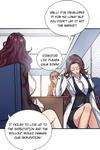 Page 5 Transcriptions
OH ! WOMEN ! THIS IS SO MESSED UP ! AM I GETTING IN TROUBLE AGAIN ? OH ! IT'S NOT SO EASY TO BECOME RICH ! I NEED TO STEP IN ... ... BEFORE THINGS BECOME WORSE !