Page 1 Transcriptions
I DIDN'T SEE CHONGMING HOUSE WAS SUCH A SELF - SERVING ORGANIZATION ! YEAH . IT HAS BECOME DIFFERENT FROM THE CHONGMING HOUSE I KNEW FROM MY GRANDPARENTS ! THERE ARE SOME PEOPLE WHO REMAIN THE SAME SURELY , BUT THEY ARE TREATED AS FREAKS AND ARE REJECTED .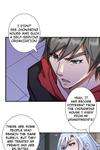 Page 2 Transcriptions
REJECTED . NO ! MAYBE IT'S NOT WRONG TO PUT THEMSELVES FIRST ! MAYBE THIS IS A BETTER WAY IN TODAY'S SOCIETY ? PERHAPS THE RULE - MAKERS DELIBERATELY USE THEIR SELFISHNESS TO ACHIEVE THE GOAL OF PROTECTING HUMANS .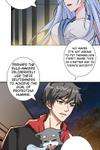 Page 3 Transcriptions
HA HA ! THAT'S ONLY NONSENSE . DON'T TAKE IT SERIOUSLY . THAT MAKES SENSE . IT'S NOT IMPOSSIBLE . WHY DIDN'T I THOUGHT OF THAT ? EMBARRASSING !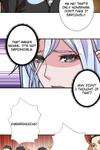 Page 4 Transcriptions
EMBARRASSING ! WHO'S HE ?

Page 5 Transcriptions
THERE ARE SO MANY IMPORTANT GUESTS HERE TODAY , BUT YOU NIGHT HUNTERS HAVE MADE THIS PLACE A SHABBY THING . WHAT AN EMBARRASSMENT !