Page 1 Transcriptions
YOU STINKY DOG ! YOU DID THIS ON PURPOSE , DIDN'T YOU ?! LOOK AT THIS CRAP ! SHABBY IS TOO GOOD A WORD TO DESCRIBE IT !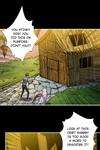 Page 2 Transcriptions
IT'S A DEATHTRAP ! IT WILL COLLAPSE IF I SPEAK A LITTLE BIT LOUDER ! SHAKING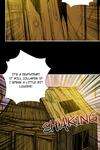 Page 3 Transcriptions
!! 1/2 IT'S FORMED ACCORDING TO HOW MUCH POWER YOU INJECTED ! STOP COMPLAINING . YOU CAN'T BLAME OTHERS ! IT'S ALL BECAUSE YOU DON'T HAVE ENOUGH DEMON POWER ! I'VE ALMOST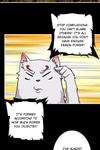 Page 4 Transcriptions
m W YOUR POWER TO THE DEVOURED VOID IS LIKE A DROP IN THE BUCKET . BE GRATEFUL THAT YOU GOT THIS HUT AT LEAST ! DRAINED MY POWER . IS THIS WHAT ALL THAT CAN FORM ? D * MN ! IT'S KIND OF RAMSHACKLE , BUT IT'S GOT EVERY FUNCTION IT SHOULD HAVE . DON'T UNDERESTIMATE IT !