Page 1 Transcriptions
ACT 49 : ROMIO & JULIET & THE INUZUKA FAMILY THE INUZUKA FAMILY . COM ILLI A DISTINGUISHED FAMILY THAT HAS PRODUCED MANY MINISTERS TO SERVE THE NATION OF TOYWA . OH , UH ... IT'S WOW ! THIS IS LOVELY ! YOUR THERE'S JUST ONE THING I'M WORRIED ABOUT . IS SOME THING THE MATTER ? YOU LOOK LESS THAN PLEASED ... HOUSE ? ! YEAH THEY SHOULD BE GREETIN ' US ONCE WE STEP INSIDE ... DO YOU MEAN THAT GUARD DOG HASUKI MEN TIONED ? IF BOTH HASUKI AND INUZUKA ARE THAT I'M HOME !! I THINK YOU'LL BE SAFE AS JULIO ... GRR CON HRR ! CERNED ABOUT THIS PERSON ... FRATTLE ... HOW TERRI FYING MUST THEY BE ... ? ... BUT IF YOU SENSE ANY DANGER TO YOUR PERSON , RUN FOR THE HILLS . PLEASE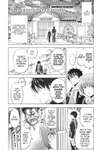 Page 2 Transcriptions
2 YOU MUST BE EX HAUSTED FROM YOUR LONG JOURNEY WEL COME HOME ROMIO SAMA . I , YOUR DE VOTED SHUNA ... HAVE BEEN EAGERLY AWAITING YOUR VISIT HOME . OH , IS THAT SOP HEY , COME ON . YOU DON'T HAVE TO GREET ME ALL FORMALLY ! WOW ! SHE'S SO PRETTY ! SHE LOOKS LIKE ONE OF THOSE TOU WANESE DOLLS . THEN I SHALL STAND .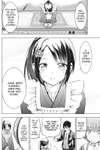 Page 3 Transcriptions
AH ! YES , THAT'S ME . OH ! I HEAR YOU'RE ROMIO SAMA'S JUNIOR AT SCHOOL . WH ... THAT'S CRAZY TALK !! YOU'RE SO LOVELY THAT I MISTOOK YOU FOR A GIRL AT FIRST YOU MUST BE JULIO SAMA . MY NAME IS SHUNA INUZUKA . THE PLEAS URE IS ALL MINE . I'M JULIO . IT'S A PLEASURE TO MEET YOU . HUH ?! SHE'S YOUNGER THAN ME ?! BUT SHE SEEMS SO MATURE ... SHUNA'S THE DAUGHTER OF ANOTHER BRANCH OF THE FAMILY SHE'S LIKE MY LITTLE SIS . SHE'S BEEN A MAID FOR THE HEAD FAMILY SINCE FOREVER SHE'S 15 .