Page 1 Transcriptions
WHAT ON EARTH HAPPENED ? ! YOU GOT FIRED FROM THE COMMITTEE ? ! THERE'S NO WAY I CAN TELL HER WHAT REALLY HAPPENED ! UH ... MA WHO COULD ADMIT TO GETTING SACKED FOR TEASING A GIRL OVER HER TEDDY BEAR PANTIES ? ACT 37 : ROMIO & SIBER II THEN WHAT HAP PENED SO , THAT'S WHY YOU DISAPPEARED AFTER THE POSTER JOB ... HOW DO I PUT THIS ... EP OUT THEN WHAT ? NOTHING ... THAT'S THE END OF IT ... I GOT A LITTLE CARRIED AWAY AND MADE HER MAD ...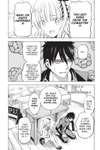 Page 2 Transcriptions
HOW COME YOU'RE SULKING ? YOU'RE TOTALLY SULKING ! DISAP POINT ED ? I SEE THEN YOU'RE GIVING UP ON BEING DEPUTY COMMITTEE LEADER . I AM NOT I'M A LITTLE DISAP POINTED THAT'S ALL !! I'M NOT SULKING . BE CAUSE I THOUGHT ... ... I'D GET TO WALK AROUND THE SCHOOL FESTIVAL WITH YOU ... IF YOU DEMON STRATE SINCERITY , I'M SURE IT WILL GET THROUGH TO HER . SIBER - SAN ISN'T THE SORT OF PERSON WHO WOULD DISMISS SOMEONE WITHOUT REASON .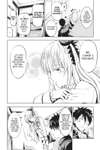 Page 3 Transcriptions
I'LL ... BYE ... BE WAIT ING ... ..WAIT ING FOR ME ... PER SIA'S MA ... GAZING AT PERSIA FROM AFAR , FANTASIZING ABOUT WHAT IT'D BE LIKE TO CHECK OUT THE FESTIVAL TOGETHER IT WAS BORING WITH A CAPITAL B. TO ME THE SCHOOL FESTIVAL ONLY EVER MEANT WANDERING AROUND ALONE ... AN SO YOU CAN BET YOUR BUTT I'M GONNA APOLOGIZE TO SIBER AND GET MY JOB BACK !! BUT NOW , PERSIA WANTS TO SEE THE FESTIVAL WITH ME , TOO !!