Page 1 Transcriptions
ACT 19 : ROMIO & TERIA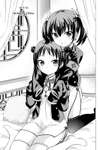 Page 2 Transcriptions
... WITH ME AND PERSIA GETTING GROUNDED AS PUNISHMENT FOR FIGHTING WITH REAL SWORDS . PERSIA'S BIRTHDAY ENDED ... SNRR RRK ... I HAFF NO EKSHK YOOSH FER MYSHELF . FER THISH T'HAPPUN WISH BOASH SHED PREFEKSH PREZEN ISH SHAYMFOOL ! THE HEAD PREFECTS GOT CHEWED OUT BY THE HOUSE MASTER AND HOUSE MISTRESS FOR MISHANDLING THE SITUATION CAIT ! I KNOW YOU'RE SLEEPING !! DOANT IMMUH TATE ME ! ՈՒ FORGET YOU !! I WAS WOR RIED SICK , YOU DUM MY !! HASUKI GAVE ME HELL ...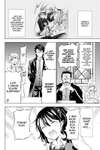 Page 3 Transcriptions
... AND AS FOR NII SAN ... ROMIO . HOWEVER , THIS COM MOTION OCCURRED BECAUSE I HANDLED THE SITUATION POORLY . I'VE SEEN MY ERROR . L - LOOK , I CAN EXPLAIN THE BRA . I PICKED IT UP OFF THE GROUND THAT'S ALL ! MY DOUBTS HAVE NOT BEEN COMPLETELY ELIMINATED . ... NEVER DO SUCH A THING AGAIN . I WILL LET THIS REST FOR A LITTLE WHILE .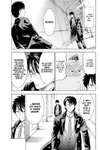 Page 4 Transcriptions
Dorm Office AND ONCE MY PUNISH MENT WAS OVER ... HUH ? YOU WANNA BECOME A PREFECT'S YEOMAN ? YOU , OF ALL PEOPLE ?! I PROMISED PERSIA I'D BECOME A PREFECT . YEAH . A LOT OF THEM GO ON TO BE SELECTED AS PREFECTS THEMSELVES . THE PREFECTS ' YEOMEN ARE BASICALLY FLUNKIES THAT ATTEND TO THE PREFECTS AND TAKE CARE OF THEIR ERRANDS AND STUFF . Vale