Page 1 Transcriptions
ACT 25 : ROMIO & AIRU II HULI --HTI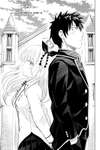 Page 2 Transcriptions
SS I CAN'T FIND INH ZUKA . WHERE DID HE GO AFTER THE HEAD PREFECT KICKED HIM OUT ? OW HE SEEMED UPSET ... TMP ta TMP It TMP ME ISMOOSH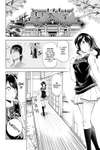 Page 3 Transcriptions
AHHH !! WHAT WERE YOU DOING DOWN THERE ?! OW , T OW , WAS OW ... NAP PING ! ... UH ... YOU COULD SAY IS THE SPARRING OVER ? SO ... ALL RIGHT ... C'MON , CHEER UP ! SO YOU GOT YELLED AT A LITTLE . THAT'S NO REASON TO BE SO ...
Page 4 Transcriptions
... !! HUH ? SORRY ! I DIDN'T MEAN TO HIT YOU THAT HARD ... INUZUKA ... WHAT'S WRONG WITH YOUR SHOUL DER ?! IT IS NOT NOTHING BRO !! IT'S NOTHIN ' ! QUICK , TO THE FIRST AID KIT !!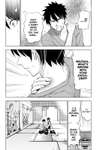 Page 5 Transcriptions
tam ... AND HE TOOK ME OUT WITH HIM . WE FELL ALL THE WAY TO THE BOTTOM OF THE STAIRS . THIS IS GONNA SOUND PATHETIC ... YOU'RE LUCKY YOU WEREN'T HURT WORSE I LANDED HARD ON MY LEFT SHOULDER . I CAN BARELY MOVE IT NOW ..BUT DURING THE MORNING RUN , THE GUY IN FRONT OF ME SUDDENLY WENT DOWN LIKE A STONE ... BRO ! !! AND I GOT A REASON WHY I WANTED TO LAND A HIT ON HIM AT ANY COST IF I HAD HE WOULDA STOPPED ME FROM CHALLENG ING HIM WHY DIDN'T YOU MENTION IT BEFORE PRACTICE STARTED ?! WAIT , SO YOU FOUGHT YOUR BROTHER WITH THAT INJURY ?! DUNNO IF I COULDA GOTTEN A HIT IN EVEN IF I'D BEEN AT 100 % . ANYWAY , A LOSS IS A LOSS . I HAD NO IDEA ... IT MEANT THAT MUCH TO INUZUKA TO CHALLENGE THE HEAD PREFECT ?