Page 1 Transcriptions
с H . UGH , WHAT A PAIN . WHAT DO WE HAVE TODAY ? A HIKE ? MORN ING ! DAY 2 OF THE CAMP DAWNED ... HEY , HASUKI ... ARE YOU REALLY GONNA DO THIS ? TUG I REALLY THINK I'VE WANTED TO SETTLE THIS FOR A LONG TIME . CAN'T YOU RECON SIDER ? IT'S TRUE THAT I WAS DRUNK YESTERDAY , BUT THAT DOESN'T MEAN I ACCEPTED THIS CHALLENGE LIGHTLY YOU GUYS ARE BLOWING THIS WAY OUT OF PROPOR TION ... IT'S TIME TO MAKE CLEAR WHERE THINGS REALLY STAND !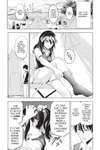 Page 2 Transcriptions
LAST AS FOR NIGHT AND IF I DO LOSE , THEN I'LL STAY AWAY FROM INUZUKA FOR THE REST OF MY LIFE ! I WON'T LOSE TO YOU AT ANYTHING ! YOU'RE ON , BRO ! I PRO POSE WE COMPETE AT THAT DO YOU ACCEPT ?! THE DETAILS OF OUR DUEL ... LUCKILY , IT SO HAP PENS THAT WE HAVE A HIKE TOMOR ROW . I'LL ADHERE TO THAT AS WELL . SHOULD I LOSE , I'LL NEVER APPROACH INUZUKA AGAIN FOR THE REST OF MY LIFE . I COULDN'T ASK FOR BETTER TERMS ! WHAT ?! WAIT ! THAT'S TOO ... DON'T PROMISE I SEE THIS IS NO MERE WHIM FOR You . ID THAT !! YOU GUYS ARE KIDDING RIGHT ?! THIS IS OUR BAT TLE ! WHAT'S OUR PRIDE IS ON DON'T THE LINE STOP HERE ! US !!! THE POINT OF A COMPETI TION LIKE THAT ?!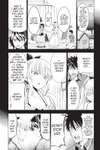 Page 3 Transcriptions
THIS IS THE ONE SHOW DOWN ... ... I CAN'T LOSE !! ACT 32 : ROMIO & JULIET & HASUKI II