Page 1 Transcriptions
the Angel of Music must've already handed over the glove to the other angels by Now, Monitoring the other angels is my duty and Death's. ......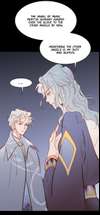 Page 2 Transcriptions
Fine, go ahead. But remember to bring back the Angel of Music in one piece! What do you need him for?

Page 3 Transcriptions
He was the one who discovered that the piano keys are hiding in the bodies of this earth's inhabitants. But this ability is no longer needed now. If it isn't because we still need those angels to guard the piano keys, We would've killed him long ago! What a load of nonsense.