Page 2 Transcriptions
A CHAPTER ONE THAT'S LIFE THAT'S WHAT PEOPLE SAY YOU'RE RIDING HIGH IN APRIL SHOT DOWN IN MAY BUT I KNOW I'M GONNA CHANGE THAT TUNE WHEN I'M BACK ON TOP IN JUNE I recognize her instantly as my mom . THE Her real name is Amy Racecar -- I mean , if an Amy Racecar is a real thing . TIME TO COME OUT AND PLAY . Maybe you can tell that I've taken a nasty bump to the head . YOU'RE ALL GROWN UP NOW . BE YOUR OWN MOM . A real space pirate . Real space . Real me . Am I even real ? Believe me . I get it . OHHHH .. It looks like crazy town , but it's all in my head . n 150 Can AVA Lok TAKE IT SLO LIL'B THAT'S A BIG BUMP . 1043 UP AN ' AT ' EM SUNSHINE ! WHERE AM- ? мом ? I DON'T WANT TO DIE . " Sniff " It's a dream but not ... It's the place I went when I was a kid and my fuckhead mother put me in a coma for a week . My real world mom . Not Amy Racecar .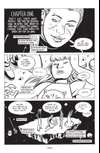 Page 3 Transcriptions
I THOUGHT YOU WERE A GONER . BORIS , RIGHT ? DESCARTES ? Bat NAH ... SHE AIN'T READY YET . 1 ... SAW you , DESCARTES ... AND HER ... WE WERE ... TALLER . Amy Racecar is my deep subconscious ... or my superego -- Id whatthefucknot . Always trying to push me toward a larger truth . DO YOU REMEMBER WHAT YOU SAW ? " HER " HAS A NAME , YOU KNOW ? ... COSMIC PRINCESS ? HELLO ? Ere Yeah ... Here it's just hers I can't remember . SO YOUR CHOICE . EITHER I COUNT TO TWELVE BILLION AND COME AFTER YOU , OR YOU COUNT TO SIX AND COME AFTER ME . WHY JUST SIX ? Amy's a part of me , so I don't think she really wants to kill me . READY FOR WHAT ? ..Scary shit . 1044 HOW LONG WAS I OUT ? Meaning she's always trying to kill me ... which , I guess , is a pretty big truth . YOU REALLY STEPPED IN IT , LIL ' B. MAYBE NEXT TIME YOU'RE IN A PICKLE , PHONE A NEW FRIEND . WHO CARES ! THIS IS THE LAST GO AROUND I THINK . Reality . CUZ I WOULD JUST STAY AND KILL YOU , AND WHO WANTS TO WAIT AROUND . " sniff " I can't remember their names . GRRR ... NEVER COULD LISTEN . I know mom hates her , though . DON'T GET YOUR PANTIES IN A BUNCH , IMAGINARY MAN , Okay , so maybe she really wants to kill me .