Page 1 Transcriptions
WHAT'S THE REASON , BAI HU ? 111 IS THERE ANY SPECIAL REASON WHY YOU WANT TO HELP HIM SO MUCH THIS TIME ?

Page 2 Transcriptions
I CAN'T SAY THAT I CAN'T BEAR IT WHEN I SEE QIN LAN GET HURT ... WELL , I HAVE TO SAY SOMETHING ELSE . 1 DONT KNOW WHY 1 FEEL GUILTY g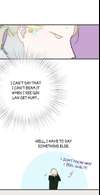 Page 3 Transcriptions
DAD , THESE DAYS , I'VE BEEN THINKING ABOUT WHAT YOU TOLD ME , D !! HE INCLUDING YOUR EXPECTATIONS OF ME ... HU I DON'T KNOW HOW I'LL END UP IN THE DIRECTING BUSINESS , AND I DON'T KNOW IF I'M GOING TO ACCOMPLISH MUCH . THERE ARE SO MANY EXCELLENT PEOPLE IN THE WORLD . I WILL BE NOBODY ONE HUNDRED YEARS LATER .

Page 4 Transcriptions
I'M A LITTLE CONFUSED ABOUT WHAT I SHOULD DO . SR AFTER ALL , I'M JUST DOING WHAT I LOVE ... TO SATISFY MYSELF .