Page 1 Transcriptions
HELLO EVERYONE , ( I'M MAO , THE LITTLE BROTHER OF SHU , THE PROTAGONIST FROM " CLASSMATE RELATIONSHIP ? " I AM HIS CLASSMATE , LI MOSHOU ! ( NICKNAMED LITTLE MONSTER ) w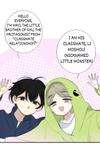 Page 2 Transcriptions
HELLO , THIS IS MY OLDER BROTHER XU KEZHEN . HE'S A BIG STAR . ACTUALLY HE'S NOT THAT I AM HIS YOUNGER BROTHER , XU LENG .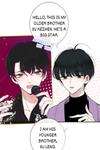 Page 3 Transcriptions
WE WENT TO THE SAME JUNIOR HIGH SCHOOL , WE WERE CLASSMATES ! THE ABOVE IS A CHARACTER INTRODUCTION .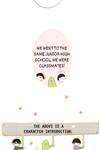 Page 4 Transcriptions
JANUARY IST , NEW YEAR'S DAY .