Page 1 Transcriptions
L.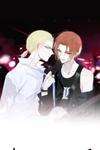 Page 2 Transcriptions
WE ARE NOT FRIENDS CREATOR : ZIWU A PRODUCED BY : KUAIKAN COMICS TRANSLATED BY : LAN - BRIDGE GROUP

Page 3 Transcriptions
WHAT ARE YOU TALKING ABOUT ?! I'M NOT HERE FOR YOU ... DON'T LIE , IT'S USELESS . ANYWAY , YOU'VE GOT NOTHING .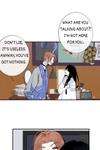 Page 4 Transcriptions
WELL , ACTUALLY , I'VE BEEN THINKING FOR THE PAST FEWDAYS ... DID YOU SEND ME FLOWERS BEFORE ? BESIDES , D CITY IS SO BIG AND THERE ARE SO MANY BARS . HOW IS IT THAT YOU JUST SO HAPPENED TO BE A BARTENDER IN THE BAR WHERE I WORKED AS A BAR SINGER ? DO YOU HAVE A SECRET CRUSH ON ME ?