Page 1 Transcriptions
TAP

Page 2 Transcriptions
AFTER FOLLOWING THEM FOR A DAY , I COULDN'T FIND THE RIGHT OPPORTUNITY TO APPROACH YAOYAO ... TAP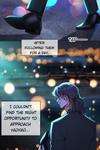 Page 3 Transcriptions
TSK ! THE GROUP OF BODYGUARDS THAT YE ZHONGYU SENT ARE TOO CONSCIENTIOUS ...
Page 4 Transcriptions
BOSS , I'VE ALREADY BOUGHT ALL THE RAFFLE TICKETS THAT I COULD BUY , BUT ... ... WE DIDN'T GET THE PRIZE . C THE OTHER WINNERS ARE ALL FAMILIES WITH CHILDREN ... WHAT ABOUT THE OTHER WINNERS ? NO MATTER HOW MUCH IT COSTS , I MUST GET THE WINNING TICKET !
Page 5 Transcriptions
... THEIR CHILDREN CRIED A LOT WHEN THEY HEARD THAT THEIR PARENTS WANTED TO SELL THEIR WINNING TICKET . WE'RE AFRAID THAT THE YOUNG MISS WOULD FIND OUT , SO WE DIDN'T DARE TO CONTINUE ... FORGET IT . WHEN THEY GET DOWN , I'LL FIND A WAY TO GET CLOSE TO YAOYAO AND THE REST OF THEM . THAT KID SEEMED TO LIKE THOSE BALLOONS ... ... HE WOULD BE VERY HAPPY IF I BOUGHT THEM ALL AND GIVE IT TO HIM AT THE EXIT .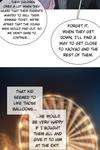 Page 6 Transcriptions
THEN I'LL HAVE AN EXCUSE TO TALK TO YAOYAO .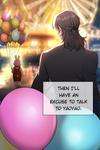 Page 7 Transcriptions
ATTENTION TO ALL VISITORS !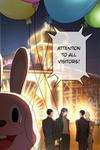 Page 8 Transcriptions
THE ACTIVITY AT THE FERRIS WHEEL HAS JUST BEGUN .