Page 1 Transcriptions
EDENSZERO A 40 gabe THE CHAPTER 104 : THE WOMAN THEY CALLED PIRATE
Page 2 Transcriptions
ALLOY 20 PUFF SPA OF EDEN , MY OLD FRIEND ... BUT WHY DO I HAVE TO BE HERE ? I HOPE YOU'RE HAPPY ... DEMANDING A BATH THE SECOND YOU BOARD OUR SHIP ... TWITCH TWITCH NOTHING COULD EVER BEAT THIS ! 5 PUFF SOAKING IN A WARM BATH , GAZING AT THE SEA OF STARS ... MMM , I COULD ALMOST CRY ...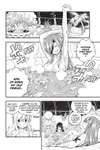 Page 3 Transcriptions
HERE ? !!! Could you at least wait until we're out of the bath ? BESIDES , I SEE YOU'VE INCREASED YOUR RANKS . O MIGHT I REQUEST THE FAVOR OF A DUEL ? VWOM BECAUSE WE'VE NEVER MET IN PERSON . AND NAKED BONDING IS THE BEST WAY TO BUILD A FRIENDSHIP . ELSIE CRIMSON . BEING A WARRIOR MYSELF , I HAVE HEARD OF YOU . # !! AND YOU O ACCEPT THE CHALLENGE ? !! SIMSHT SLOOSH IF YOU LIKE . I'M READY WHENEVER YOU ARE .