Page 1 Transcriptions
HAZEL , I WENT TO AARON'S COMPANY FOR AN INTERVIEW . SO I'M HERE FOR A MEAL TOGETHER . REALLY ? WAS THE INTERVIEW A SUCCESS ?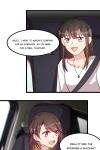 Page 2 Transcriptions
THAT WOULD DEPEND ON AARON , I WON'T DARE SAY ANYTHING OTHERWISE , YOU'RE CAPABLE . HE WON'T LET A TALENT LIKE YOU GO . WHAT DO YOU MEAN SUCCESS ? I'M A GRADUATE STUDENT , HOW DIFFICULT CAN IT BE TO PASS AN INTERVIEW ? IS SHE LOOKING DOWN ON ME ?