Page 1 Transcriptions
WE DON'T WANT TO RELY ON HIM TOO MUCH . THIS MAKES THEM THINK THAT WE'RE A PROBLEMATIC FAMILY . YOU WON'T LOOK GOOD IN FRONT OF THEM . IF WE TELL YOU , YOU'LL GET YOUR HUSBAND TO HELP OUT FOR SURE . YOU BOTH WERE MARRIED NOT LONG AGO .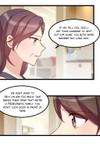 Page 2 Transcriptions
BUT IF WE CAN'T HANDLE THIS ON OUR OWN AND IT BLOWS UP , AND AARON'S FAMILY FINDS OUT AFTER THAT , THEY MIGHT THINK THAT WE DON'T TREAT THEM AS OUR OWN . YOU'RE RIGHT . TALK TO HIM WHEN YOU GET BACK TONIGHT AND SEE WHAT HIS RESPONSE IS .