Page 1 Transcriptions
RIPPLE ROOTER - PROXY OF FATE STORY . ART ILZI LOOKS LIKE HE HAS A SLIGHT RIB FRACTURE ,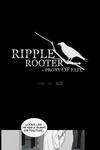 Page 2 Transcriptions
IT'S A SMALL CRACK , BUT IT PROBABLY HURTS A LOT FOR A KID . HE'S ALSO SUFFERING FROM MALNUTRITION , AND HAS NUMEROUS BRUISES ALL OVER HIS BODY ... DID HE SAY HOW HE GOT HURT SO BAD ? HE'S CLAIMING HE FELL DOWN SOMEWHERE ,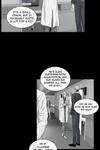 Page 3 Transcriptions
HE'S CLAIMING HE FELL DOWN SOMEWHERE , BUT UNLESS HE CHOSE TO HARM HIMSELF BY FALLING ACROBATICALLY , IT'S MORE LIKELY HE WAS BEATEN . $ HOO ... >
Page 4 Transcriptions
HE'S A DRIFTER , RIGHT ? HAAAAAA , THESE KINDS OF CASES ARE COMPLICATED EVEN IF YOU REPORT IT , THEY'RE NOT GOING TO CARE . WE GET A TON OF THESE KIDS DURING THIS TIME . EVEN THE POLICE CAN'T HANDLE ALL OF THEM . THEY JUST SEND THE BUSINESS OWNER AWAY WITH A SLAP ON THE WRIST WHILE SENDING THE CHILD INTO THE SYSTEM .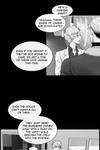 Page 5 Transcriptions
I'M A POLICE OFFICER OH , I'M SORRY . YOU DIDN'T LOOK LIKE ONE . FOR NOW ...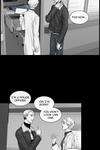 Page 6 Transcriptions
WE'RE DONE WITH THE CHECK - UP , AND HE'S CURRENTLY GETTING SOME FLUIDS , SO YOU CAN GO IN AND SEE HIM AFTERWARD . THANK YOU . I GUESS I'LL HAVE A LOT OF QUESTIONS FOR HIM .