Page 1 Transcriptions
Someone who possesses the mysterious Legacy can't be an ordinary person! The details on your father state he's an [S] Rank!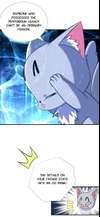 Page 2 Transcriptions
Don't worry. Take your time. I'll... It's fine. I'll decode it in seconds. Wow! Boss!!! Little Four, why are you so excited? Sigh~

Page 3 Transcriptions
Boss, do you know how awesome our dad is? Damn! He's insane! My goodness! You were calling him my father just now. Why did he suddenly become our father? He's a Major General in the federal military and he can even set up Legacy Missions. Don't tell me he's an Imperial Mecha Operator.