Page 1 Transcriptions
TOKYO POP PRIEST 14

Page 2 Transcriptions
TTHACHTEN AV PICKNAM ie ' SCAN PREST minne mikononi HIC 1.4 14 14 | ( VYHICILE dita vilken

Page 3 Transcriptions
BACK IN THE OLD WORLD , FAR TO THE EAST , BEYOND WHERE THE SUN RISES , GYPSIES TELL THIS TALE TO COMFORT THEIR WEARY HEARTS IN TIMES OF HARDSHIP . THEY KNOW THE SAD SONG OF HEAVEN HIDDEN BY THE CLOUDS . COUNTING THE STARS AT NIGHT , WARMING THEMSELVES BY THE CAMPFIRE , THEY TELL THESE STORIES OF ANGELS IN LOVE .

Page 4 Transcriptions
THE THING ABOUT BEING A PRIESTI NO ONE EVER THINKS TO INVITE YOU TO THEIR PARTIES SO I HOPE YOU'LL FORGIVE ME FOR INVITING MYSELF TO YOURS !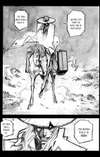 Page 5 Transcriptions
DIRITTO TO YOU , OUR UNINVITED GUEST ... FLOWERS OF CONSO LATION !!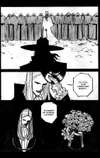 Page 6 Transcriptions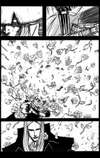 Page 7 Transcriptions
THE FRAGRANCE OF FLOWERS GIVES ME A HEADACHE BESIDES , I DONT NEED YOUR CONSOLATION . THIS IS NOT THE FIRST TIME IVE CRASHED SOMEONE ELSE'S PARTY WHIRL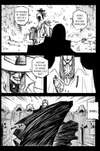 Page 8 Transcriptions
トリー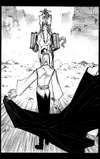 Page 9 Transcriptions
MY LORD HAS CHARGED ME WITH KEEPING THE RIFFRAFF FROM THIS HOLY PLACE . AND I'M AFRAID YOUR NAME WAS NOT ON THE GUEST LIST . I WARN YOU ONE LAST TIME , PILGRIM OF THE SANCTUARY -- TURN BACK !! 1 TEMOZARELAS LACKEY FZT ARE YOU WAITING FOR MY ANSWER ?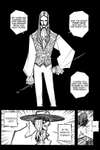 Page 10 Transcriptions
IWAND NO NEED FOR THAT LOOK OF CONCERN , BELIAL ! ¿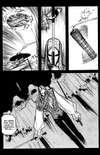 Page 11 Transcriptions
... PERHAPS YOU WILL AT LAST ACCEPT YOUR PLACE IN THE CIRCLE . IF YOUR PITIFUL HOST DIES HERE ... S + AND BACK , YOU HALF - SOUL !! YOUR FURY CANNO + BREAK HIS SWORD YE + !!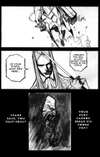 Page 12 Transcriptions
P 、

Page 13 Transcriptions
(