Page 1 Transcriptions
PRINCIPAL'S OFFICE Principal's Office PARTY COMMITTEE DEPUTY SECRETARY'S OFFICE Party Committee Deputy Secretary's Office TO FURTHER ENHANCE THE ENTHUSIASM OF STUDENTS TO PARTICIPATE IN LEARNING AND DISCUSSION , THE SCHOOL INTENDS TO HOLD AN ACADEMIC SEMINAR FOR STUDENTS .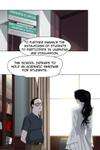 Page 2 Transcriptions
MR . OUYANG ONCE RECOMMENDED YOU . YOU MUST BE PREPARED TOO , RIGHT ? YES , PRINCIPAL , I FOLLOW THE SCHOOL'S ARRANGEMENTS .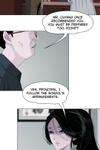 Page 3 Transcriptions

Page 4 Transcriptions
14
Page 5 Transcriptions
THIS IS A HUMAN STATUE ANATOMY SECTION . FIRST , LET'S WELCOME YE LIMEI TO GIVE A DEMONSTRATION . I'LL START WITH THE BASIC STRUCTURE OF THE HUMAN BODY