Page 1 Transcriptions
CAPTAIN CAO , ACCORDING TO THE PHONE SIGNAL , YANG GUANG IS RUNNING TOWARDS THE SOUTH ! POLICE OKAY , WE'LL FOLLOW HIM ALONG THE MAIN ROAD !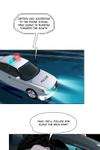 Page 2 Transcriptions
CAPTAIN CAO , I THINK AN EXPERIENCED CRIMINAL LIKE YANG GUANG WILL PROBABLY ESCAPE TO THE WEST THROUGH A BACK ROAD . 52786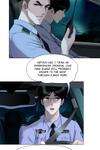 Page 3 Transcriptions
THERE ARE FEWER CAMERAS . IF HE WADES ACROSS RIVERS , HIS SMELL WILL BE WASHED OFF , AND OUR DOGS WON'T BE ABLE TO FIND HIM .

Page 4 Transcriptions
IT WHO TAUGHT YOU THAT ? 825265785 CAPTAIN DOU . DOU YINGNAN ?! HE MADE A HUGE MISTAKE AND DOESN'T DESERVE TO BE A POLICE OFFICER . I AM YOUR BOSS NOW ! 52786