Page 1 Transcriptions
The Earl questioned my magic in front of everyone in the shrine. And I finally used my ultimate skill to fool the Earl. There is a beautiful angel with blond hair standing right behind you. She calls you... Father.

Page 2 Transcriptions
Story and Art: Kuizi Quality Control: Minxi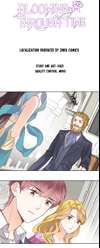 Page 3 Transcriptions
Your grace, please do not move. Your movement might cause fluctuations in the energy field. In that case, I will lose my contact with that beautiful angel. Don't you want to know what is the angel trying to tell you...? Non... Non-sense!