Page 1 Transcriptions
AND THE THREE WOMEN HAVE TO BE MY MOTHER , MY WIFE AND MY BELOVED EX - GIRLFRIEND'S ELDER SISTER ! THIS IS WHAT THEY CALL " THREE WOMEN ARE ENOUGH FOR A DRAMA " . MUM , YOU SHOULD START PREPARING FOR DINNER SINCE QING - QING RARELY COMES TO VISIT US .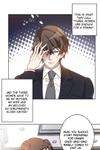 Page 2 Transcriptions
WAIT A MOMENT , SON , YOU HAVEN'T TOLD ME WHAT'S THE OPERATION THAT YOU DID ? CLOSES THE DOOR YOU SHOULD PREPARE FOR DINNER FIRST . I WILL TELL YOU ABOUT THE OPERATION IN DETAIL WHEN I HAVE THE TIME .