Page 1 Transcriptions
HOWEVER , WE STILL NEED TO PASS MOTHER - IN - LAW AFTER RETURNING BACK TO HOME . SHEN MUHAN ALSO LIKED CATS AND DOGS BUT HE COULD NOT KEEP IT BECAUSE HIS MOTHER DON'T ALLOW IT . ENTER THE DOOR .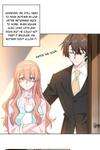 Page 2 Transcriptions
OH MY GOSH , SO CUTE ! BROTHER , IS THIS FOR ME ?