Page 1 Transcriptions
hey!! lee chohee!!! yunyoung, juyeon... don't worry about it. what the hell was that? y'know, i didn't like her from the start. she was always acting like she didn't want to be here.

Page 2 Transcriptions
person with no thoughts person with toomany thoughts she must've gotten really stressed while filming for the movie... don't pay too much attention to it. i'll try talking to her later... haha... peace was never an option...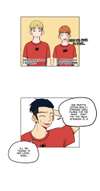 Page 3 Transcriptions
s-should we leave now...? yeah... sital k (story, art) Chapter 67: The 13th Report - School Festival (2) coloring assistance: dreamstone cover art: eleap

Page 4 Transcriptions
welcome to my home! notte cinema