Page 2 Transcriptions
...so before i tell you the good news... hey *banjang, hand this out, will ya? *the literal translation of "banjang" is "class president" but it is also the student's name. hence, the confusion.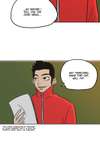 Page 3 Transcriptions
ah, sir... how many times do i have to tell... slide- class 1-3 seat 8 kim banjang oh, not you, the class prez. hey, i get it. sit down, alright? ......