Page 1 Transcriptions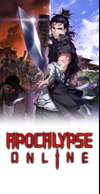 Page 2 Transcriptions
In the last battle, you werethe only survivor of the battalion at the frontlines. Compile all the information you have on monsters into a booklet. It'll be a great contribution if you list their characteristics, attack tactics, and weaknesses. That's true. The firstbattle was an attempt for humans and monsters to probe into each other's power. Neitherhad a good grasp of the other's combat strength.

Page 3 Transcriptions
It'll definitely be a great contribution if I organize the information on monsters and submit it. It'll be a great plus to earn some military merit before the decisive battle even starts.
Page 4 Transcriptions
Once you're at the frontlines, it's likely that you won't be able to return to the sect for some time. Master looked through the countless skills from the Establishing Foundation and finally pulled out the one she cultivated in the past.